East Yorkshire hospitals trial hand-held computers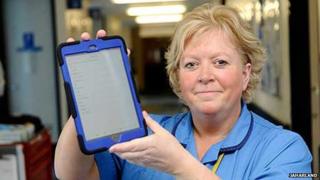 Hand-held computers to record patients' vital details are to be tested in two East Yorkshire hospitals.
The Hull and East Yorkshire NHS Hospital Trust has received a grant of £950,000 from the national Nurse Technology Fund.
The equipment is being given to staff to record details like the blood pressure and heart rate of patients.
Staff at Hull Royal Infirmary and Castle Hill Hospital in Cottingham are to get the devices.
Steve Jessop, for the trust said: "Ordinarily, the results of these checks are recorded manually on paper charts kept by the patient's bed, but the e-observations programme allows us to record this information using an iPad.
"The details are entered into a secure database system which can only be viewed within the hospital, and this information then becomes instantly available to other staff involved in the patient's care."
The trial is to last for eight weeks before being assessed for more widespread use.