Massive £4m Humber Bridge A-frame repair job completed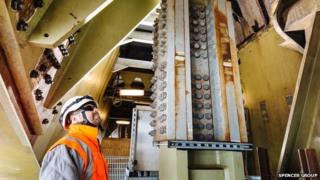 The biggest repair job on the Humber Bridge since it opened in 1981 has been completed.
Four steel A-frames linking the deck of the bridge to the towers at either end have been replaced at a cost of £4m.
Engineering firm Spencer Group said it had been a "highly complex challenge".
The work was needed because the A-frames' bearings, which allow them to move as the bridge contracts and expands due to weather changes and traffic movements, had become worn.
Spencer Group said the A-frames and bearings had been replaced by a system of pendels and "wind shoes", to protect the bridge from high winds and heavy loads.