Hull hospital patient had 'no food and water for 12 hours'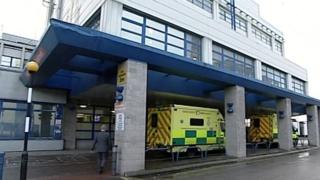 A man claims his father, who has terminal brain cancer, was left without food and water for 12 hours at a Hull hospital.
Paul Baker's father was taken to Hull Royal Infirmary's A&E unit on 9 April after a fall at his home in Brough.
Mr Baker said his father was also left sitting in his own excrement.
Hull and East Yorkshire Hospitals NHS Trust said it was aware "patients' expectations had fallen short on some occasions".
Mr Baker, whose father has two brain tumours, said: "I'm absolutely disgusted with HRI.
"We got there at about half past midnight, he was then just placed in a cubicle on a bed and I stayed with him until about 4am.
"I came back at 9am and he was still in the same bed, nobody had come to see him. He was lying in his own excrement."
'No assistance, nothing'
Mr Baker said his father was eventually moved to Castle Hill Hospital after he repeatedly requested help.
"We'd been there about 12 hours with no assistance, nothing, when he could have just been taken straight there [to Castle Hill]."
Sarah Bates, assistant chief nurse for patient experience at the trust said: "We are aware that, on some occasions, we fall short of patients' expectations.
"Whilst this is never our intention, we would always encourage people to share any concerns with us in order that we can learn from any shortcomings and share feedback with the relevant departments."
But she added the care the trust provided had consistently been rated as four out of five by patients for more than a year.
Mr Baker said his father had since been admitted to a local hospice where the treatment and service was "impeccable".