Murder accused Michael Tate 'offered wife £50k to leave'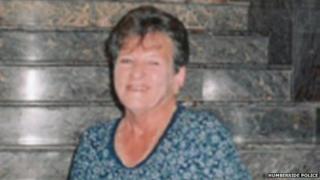 A man stabbed his wife to death after she turned down his offer of £50,000 to leave him, a court has heard.
Margaret Tate, 63, was found dead with six stab wounds in an outbuilding at her home in Scunthorpe last November.
Michael Tate, 73, of Frodingham Road, Scunthorpe, denies murder, saying he woke up to find her body on the floor.
Prosecutors at Hull Crown Court say Mr Tate stabbed his wife of 20 years in a drunken row in the kitchen before dragging her to the outbuilding.
Mr Tate told the jury he had woken up on 3 November to find his wife's body on the kitchen floor.
'End of his tether'
He said he had no knowledge of her injuries and decided to drag her into the nearby outbuilding because he did not want his grandson to see her.
Four days prior to his wife's death, Mr Tate told a friend he was at the end of his tether with his wife because of her drinking and had offered her £50,000 to leave him, but she refused, the jury heard.
Police had found Mrs Tate face-down on the floor with part of a garden lounger on top of her. She had died from loss of blood from a major artery as a result of four stab wounds to the neck, two to the mouth and front of the neck.
Officers found a kitchen knife in the house along with a half bottle of whiskey and a mop with blood in a bucket, the jury heard.
The trial, which is expected to run for seven days, continues.