Parents' anger at Bridlington School plan to ban skirts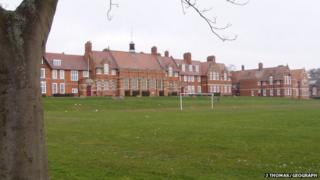 A school's plan to ban girls from wearing skirts as part of its uniform has prompted a petition signed by more than 1,000 people.
Bridlington School wants girls, as well as boys, to wear approved trousers bearing the school logo.
Parents opposing the change said it was penalising the whole school for the misbehaviour of a few children who did not follow current rules.
The school and East Yorkshire council declined to comment.
It is understood that the school wants to ban skirts because some female pupils wear them too short.
Parents have also been told that pupils will be expected to wear trousers from designated suppliers.
One parent Emma Harper, who has signed the petition, said: "Ridiculous, expensive rule. All about public image and nothing to do with supporting our children's learning.
"I don't spend £20 on pair of trousers for work let alone on trousers for one academic year.
"We can't afford that sort of money and we both work full-time to support our children."
Another parent, Jimmy Rookes, said: "They must think we are made of money.
"If they want our kids to wear this stuff they should provide the uniform."