Patient sex A&E doctor Curtis Sonny struck off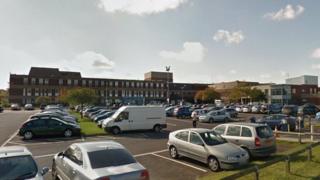 A casualty doctor labelled as having "deep-seated attitudinal problems" has been struck off after having sex with a patient.
Dr Curtis Sonny treated a "vulnerable" woman at Diana, Princess of Wales Hospital in Grimsby, but went on to abuse his position.
The Medical Practitioners' Tribunal Service found Sonny had taken alcohol to the patient's house and had sex.
Sonny was not present or legally represented at the tribunal hearing.
'Flattered by attention'
The tribunal found he had "crossed the boundaries" before the patient left his care in A&E where he administered a head massage and commented on the woman's hair.
Members of the panel said Sonny had pursued a sexual relationship with a vulnerable patient "but his actions in doing so were premeditated, deliberate and repeated".
"Patient A was vulnerable in many different respects. Dr Sonny recognised that in A & E and later exploited the fact that she was flattered and pleased by his attention to her.
"He specifically exploited her vulnerabilities by contacting her late at night, asking if she had consumed alcohol and, when informed that she had, visiting her home with the purpose of engaging in sexual intercourse with her.
"This sexual intercourse was unprotected, further risking Patient A's health.
"Having considered the evidence, the panel was satisfied that the facts in Dr Sonny's case represent an extremely serious departure from acceptable standards of conduct and behaviour and undoubtedly amount to misconduct."
The panel added Sonny "appears to consider that he has been the victim, referring to the 'tremendous emotional upheaval and despair' that he has experienced".
"He at no point considers the impact his behaviour may have had on Patient A, nor does he express any remorse towards her."
Members of the panel said Sonny had "demonstrated a deep-seated attitudinal problem which, in addition to his persistent lack of insight into the seriousness of his actions and consequences, means that he presented an ongoing risk to patients".