Beverley campaigner calls for fireworks restrictions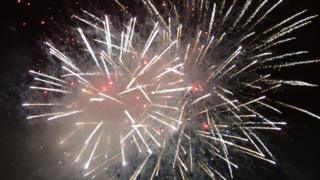 A woman has got 100,000 signatures on a petition calling for fireworks to be restricted to traditional dates.
Jill Cutsforth, from Beverley, East Yorkshire, said it would help "reduce stress and fear" in animals and people with certain health conditions.
She is waiting a date for the issue to be debated in Parliament after her petition attracted 102,960 signatures.
The government said there were "no plans at the moment to place further limitations on their use".
Current regulations allow fireworks to be used all year round, except between the hours of 23:00 and 07:00 when a curfew is enforced.
But on Bonfire Night this curfew starts at midnight and at 01:00 on New Year's Eve, Chinese New Year and Diwali.
Ms Cutsforth, who started the petition on 16 October, said: "Current regulations are outdated and largely ineffective.
"We're after a change in the law so that [the use of fireworks is] reduced from 365 days to 10 days."
'Absolutely stupid'
She said her campaign to "end random back garden fireworks" was prompted after her pet dog became frightened by fireworks being let off.
"I ended up having him sedated with diazepam. It's absolutely stupid having to do that."
She said fireworks also affected people with conditions including post-traumatic stress disorder, Aspergers and autism.
"The amount of people [who are also afraid] is crazy. They're locked inside their houses throughout the winter because they're frightened to leave."
In response to her petition, the Department for Business, Innovation & Skills said: "We understand concerns about the distress noisy fireworks can cause to pets, livestock and wildlife.
"This is one of the reasons that there is a noise level limit of 120 decibels on fireworks for home use."
It said the majority of people used fireworks at "appropriate times of year and have a sensible and responsible attitude towards them".