Closure protest outside Withernsea hospital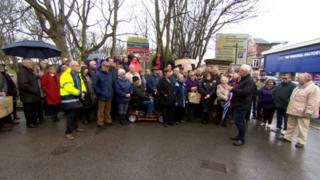 A rally has been held to protest against any possible closure of a minor injuries clinic in East Yorkshire.
The protest outside Withernsea Community Hospital was addressed by Graham Stuart, Conservative MP for Beverley and Holderness.
It follows the decision by East Riding Clinical Commissioning Group (CCG) to review urgent care services.
The CCG said it was working to improve the services to meet "current and future needs".
Mr Stuart said: "This is a service we want, we need and which this town must maintain."
Withernsea is about 20 miles from the A&E department at Hull Royal Infirmary.
Patrick Spicer the town's mayor, said "It was vitally important for a rural community to step up and say something."
Jane Hawkard, chief officer of the CCG, said the process was part of a national review and no final decisions had been made.
"Options will be assessed against a number of criteria which will include quality, safety, access and value for money.
"We will then be going to public consultation over the summer to gather further views", she added.