Hull City Council to spend £100,000 on recycling advice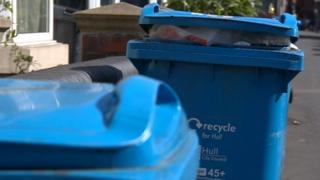 A council is to spend up to £100,000 in a bid to reduce the level of contamination in household recycling bins.
Hull City Council is to tender for expert advice on how to reduce the wrong type of rubbish placed in blue bins
Unwanted rubbish in the bins is costing it £50,000 per month in penalties, the council said.
It incurs a charge if more than 15% of recyclable rubbish is contaminated.
The city collects about 24,000 tonnes of recyclable rubbish every year and about 20% of the total weight should not be in the blue bin.
"In effect, £600,000 of council tax payers' money is being wasted which could be better spent on improving environmental services.
"The investment in a public awareness campaign will be cost-effective in the longer-term helping us to get costs and waste down and improve recycling rates", said a council statement.
The council has removed 2,150 blue bins from householders it believes are consistently contaminating the rubbish.
Doug Sharp, of Hull City Council, said: "We know people might do it by accident or somebody else has put it in, we don't want to switch those people off.
"We only do it where there's a repeated problem."
The blue bin should be used for paper, cardboard, tins, glass and some plastics.
However, food waste, black bin bags, nappies and textiles are banned from the bins that are emptied every two weeks.
The council said it currently recycled more than half of the city's waste.