Grimsby Cosalt buildings demolition plans 'devalue' fishing heritage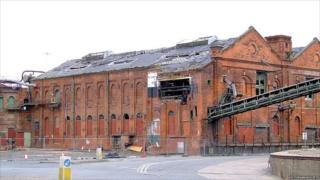 Proposals to demolish four old derelict buildings in Grimsby is "a devaluation" of the area's fishing heritage, a charity claims.
Associated British Ports (ABP) wants to knock down the Cosalt and Hammond and Taylor group of buildings on Fish Dock Road for the offshore wind industry.
The Great Grimsby Ice Factory Trust fear a neighbouring Grade II* listed building would also be under threat.
Historic England said it had "serious concerns" about the planned demolition.
ABP submitted an application to demolish the 19th century buildings last month.
North East Lincolnshire Council said the "prior approval application" would be considered by its planning committee on 25 May.
The trust, which was set up in 2010 to find a sustainable use for the endangered Ice Factory, said: "The proposed demolition of these buildings amounts to a devaluation of our heritage assets.
"And yet, we receive no compensation as our heritage is gradually eroded."
'Important contribution'
It has asked the council, Historic England, and ABP to reach an agreement "as soon as possible on the future of the town's historic dock area".
In a statement, ABP said: "Grimsby is a well-established operations and maintenance centre for the offshore wind industry, and as such the port must be ready to provide capacity for further developments related to the sector.
"The demolition of these buildings will allow clients to expand their businesses and in doing so create jobs and much-needed prosperity for the community."
Historic England said the Cosalt buildings made "an important contribution" to the town's heritage.
The Ice Factory was built in 1900 to provide crushed ice for the town's trawlers, to keep fish fresh in the ship's hold.
It is on the Victorian Society's top 10 list of structures most at risk of being lost.