Hull man killed in Isle of Man motorbike crash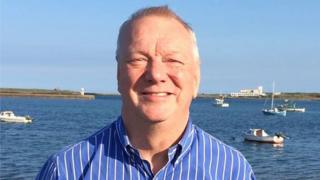 Tributes have been paid to a businessman who was killed in a motorbike crash on the Isle of Man.
Frank Robinson, 67, from Hull, died on Friday when his Triumph motorcycle collided with a Suzuki motorcycle on the A1 near Tynwald Hill.
Mr Robinson, who ran 5-Ways Motorcycles, was visiting the Isle of Man for the TT races.
In a statement, 5-Ways Motorcycles said he was a "dearly loved and devoted husband, father and grandpa".
It said: "Frank has been a well-respected figure in the motorcycle industry for over 35 years.
"He first visited the Isle of Man TT at the age of 16 and he has continued to attend for over 50 years.
"His family are devastated at losing him so suddenly and unexpectedly."
The Suzuki rider and pillion passenger, both from Liverpool, were treated in hospital for their injuries.
Isle of Man Constabulary have appealed for any witnesses to the crash to come forward.