'Facebook pond death' mother has jail sentence cut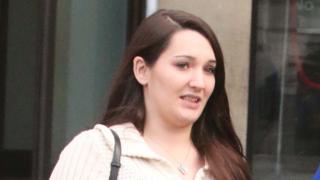 A mother whose toddler son drowned in a garden pond while she checked Facebook has had her jail sentence cut.
Claire Barnett was jailed for five years after she pleaded guilty at Hull Crown Court to four charges of neglect in October.
The court heard the 31-year-old was on Facebook instead of supervising Joshua, two, while he was in the back garden of the family home.
The Court of Appeal has now cut her prison term to three years.
Judge Neil Ford QC, Lord Justice Elias and Mr Justice Jay said the five-year term passed on Barnett was "excessive".
The incident happened at the family's home on Ferry Lane, Woodmansey, East Yorkshire, on 17 March 2014.
Hull Crown Court heard Barnett gave police conflicting accounts of what she had been doing but investigators found she had uploaded two photos to Facebook and taken a call from her boyfriend instead of watching her son.
'Fatal consequences'
Joshua was pulled unconscious from the pond and given first aid by his mother while waiting for an ambulance, but he died later in hospital.
Prosecutors said Barnett was told to cover the pond by relatives and had been warned by social services after two of her children were nearly run over while playing unsupervised.
Passing sentence last year, Judge Jeremy Richardson QC said Barnett's "lamentably appalling parenting led to fatal consequences".
On Friday, the Court of Appeal heard that Barnett has since settled well in prison and completed a thinking skills course.
Judge Ford said it was not easy to categorise the sort of crime which Barnett had committed. But in doing so, the crown court judge had come to an excessive sentence.