Jo Cox fund: Offensive comment councillor cautioned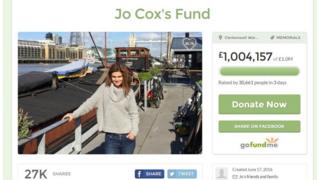 A Conservative councillor who posted an offensive message mocking the fundraising effort in memory of killed MP Jo Cox has been cautioned by police.
Dominic Peacock, 60, was interviewed by police before being cautioned under section five of the Public Order Act.
Soon after making the remark, Mr Peacock deleted it and apologised.
Mr Peacock, who represented the Minster and Woodmansey ward in Beverley, East Yorkshire, was later expelled by the Conservative Party.
The comment was made on the Vote Leave Beverley & Holderness, Haltemprice & Howden Facebook page.
Speaking after the comment was posted last month, East Riding of Yorkshire Council leader Stephen Parnaby described the post as "inappropriate and offensive".
He said: "This is not the time for inappropriate remarks, however intended, and I will not tolerate them in my group.
"Residents should expect their elected representatives to act in an appropriate and compassionate way."
Labour MP Mrs Cox, 41, was shot and stabbed in Birstall, West Yorkshire, last month.
Thomas Mair, 52, has been charged with her murder.