Hull City Council: Further cuts put 600 jobs at risk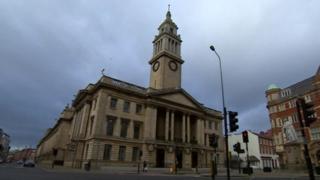 Up to 600 jobs are at risk at Hull City Council as the authority aims to save £8m over the next year, it has said.
Proposals include a review of disability services and closing all but one of the council's customer care centres.
The council, which needs to save £30m by 2020, said there may be changes to how public toilets are run and a funding cut to cultural institutions.
A spokesman blamed financial pressures from central government for the plans.
In June, the council emailed all of its workers asking them to consider taking voluntary redundancy.
The Labour-led authority said it had lost about £104m and shed more than 2,000 jobs since 2011 due to cuts in government funding.
'No easy choices'
Mike Ross, leader of the Liberal Democrat opposition on the council, said: "Speaking to other councils from around the country, they have managed to make multi-million pound savings without really touching front line services.
"That's not really the case here in Hull. The proposals yet again will impact the man and the woman in the street."
The new savings proposals will be considered by the council's cabinet on 25 July, with plans some subject to consultation.
Labour councillor Daren Hale, the council's deputy leader, said: "Identifying further savings for the future is a challenge and there is a fine line between balancing our books and ensuring we continue to provide vital services and as such these difficult decisions we are making are not taken lightly.
"It is also inevitable, sadly, that some of these savings will see a reduction in staffing, which we aim to meet by letting people leave voluntarily, where possible.
"We will continue to plan as best we can, but there will be no easy choices."