Police officer hurt at Grimsby Town football friendly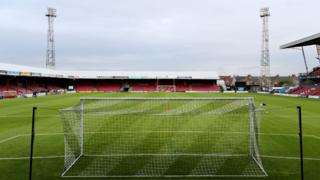 A police officer was injured and six people were arrested during trouble as Grimsby Town met Sheffield United for a pre-season match on Saturday.
Humberside Police said the officer sustained "an injury to the head and possibly a fractured ankle after bottles were thrown towards him".
The force said the six arrests were made around the Blundell Park ground in Cleethorpes for serious assault, affray and public order offences.
Pubs around the stadium were closed.
In a post on its Twitter page, the Immingham and Wolds Community Policing Team said officers found themselves "between two rival groups of 40+ each intent on fighting".
"We had glasses, bottles & street furniture thrown at us. Thankfully none of my crew injured. Wonder how much worse if we weren't there."