Bridlington streets evacuated after chemicals raid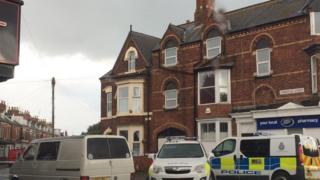 Two streets have been evacuated after illegal chemicals were found at a house in Bridlington.
The substances were discovered at a property on Oxford Street by officers during a raid, Humberside Police said.
Properties on Oxford Street and Cambridge Street were evacuated as a precaution and bomb disposal teams are at the scene "assessing the situation".
A 54-year-old man has been arrested under the illegal poisons act.
Police said: "Properties within a 100 m sq radius of Oxford Street have been evacuated following reports of illegal chemicals being stored at the property."
Residents living in the affected were taken to Bridlington Spa and told to keep away from the area until further notice.
They were allowed to return to their homes after 23:00 BST, but the cordon was due to be put back in place from 08:00 on Friday.