River Hull flood defence work to begin in autumn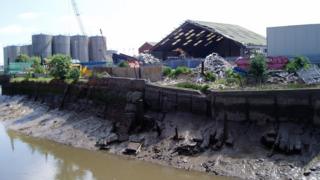 Work to repair flood defences along the River Hull will begin in the autumn, the Environment Agency has said.
The £36.5m scheme will repair defences along a 4.6 mile (7.5km) stretch of the river, which protect about 63,000 properties in Hull.
The Environment Agency said the defences had aged or deteriorated over time which potentially posed a risk of flooding when river levels were high.
The first phase of work is due to be completed by 2019.
Neil Longden, flood risk manager at the Environment Agency, said: "It will provide reassurance to a significant number of properties that are at risk of flooding, and on top of that the strengthened defences will open up the river corridor for new development, regeneration and economic growth."
Some 39 riverside locations along the river had been identified as having defences in need of work and repairing them would ensure the existing level of protection would be maintained, he said.
Defences along the River Hull currently provide a one-in-200 year protection, reducing the risk of flooding to a 0.5% chance in any one year.