Redevelopment plans unveiled for Hull city centre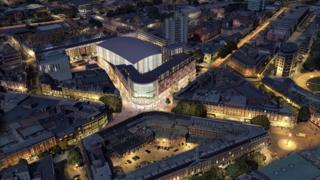 Plans have been unveiled for a multi-million pound redevelopment of Hull city centre.
They include a new 100-bed hotel, housing, an ice skating arena and a shopping arcade on the former BHS site.
Work has already started on the £6m hotel in the Kingston House building on Albion Street, with the first part expected to open in November.
The ice arena and retail development plans will go before councillors next month.
More on this and other Hull stories
Labour councillor Martin Mancey said the authority was looking for a private developer to take on the retail part of the project.
"The Albion Square scheme alone would be worth around £130m to the local economy, providing much-needed jobs for local people, alongside regenerating an area of the city centre that has been neglected for many years," he said.
As part of the development the famous Three Ships glass mosaic on the front of the former BHS department store would be incorporated into the new shopping centre.
As well as the bedrooms, the new hotel will have 14 serviced apartments, workspaces, a gym and a restaurant on top of the 12-storey building, which is one of the tallest in the city.
Meanwhile, more than 250 city centre retailers have signed a petition calling on Hull City Council to reject plans for an out of town shopping development.
The campaigners claimed the building of 10 shops and restaurants in Kingswood in the north of the city would "threaten their businesses and the regeneration of Hull city centre".
Councillors are due to decide on the application on Wednesday.