Bridlington Hospital closes ward due to 'recruitment pressures'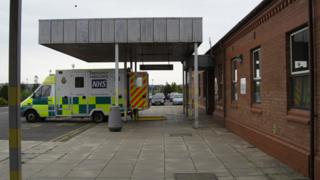 An East Yorkshire hospital is to temporarily close one of its wards due to "recruitment pressures".
The 11-bed Waters Ward at Bridlington Hospital will stop new admissions on Friday, with existing patients sent home or transferred elsewhere.
Wendy Scott, from York Teaching Hospital NHS Foundation Trust, said the beds on the ward were "not used to full capacity".
The hospital has lost a number of its services over the last few years.
More on this and other East Yorkshire stories
In 2008, acute medical care and the maternity unit were closed, with services transferred to Scarborough Hospital.
Hospital patient Ethel Burnside said the closures meant that patients where forced to travel to hospitals elsewhere.
"There is a hospital there doing nothing and Scarborough is overflowing," she said.
'Financial constraints'
Another patient, Jean Wormwell, said: "Why are they decreasing our services there instead of increasing them? If they are closing a ward at this time of year...what about winter pressures? I think it's an awful time to close a ward."
Ms Scott, the trust's chief operating officer, said some patients "could be managed in a different care setting, for example at home with additional support".
She added: "The continued provision of safe services on the east coast remains a priority, and this decision is a reflection of the challenging recruitment and financial constraints facing the NHS."
So far this year, the trust has a budget deficit of £13.8m.