Hornsea drivers get fake penalty notices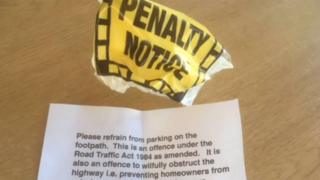 Drivers parking on a street have been given fake parking tickets.
Police said it appeared the notes, attached to cars in Rawson Way, Hornsea, were the work of a "local resident" who had "taken the matter into their own hands".
The tickets come in plastic wallets with "penalty notice" printed on them and threaten police action.
One person who received a ticket after parking on a footpath said he was "frightened" to get the note.
More on this and other East Yorkshire stories
The motorist, who asked to be known as Manos, found a ticket on his windscreen and said he was "quite surprised" when he read the note.
"I was frightened," he said.
"I thought I had done something very serious, obviously. I took immediate action. I just took my car away.
"One of my neighbours took it to the police and they found out that it wasn't legitimate."
'Not an offence'
Sgt Christopher Whitehead, of Hornsea policing team, asked the person responsible for issuing the tickets "to contact us so that we can discuss their concerns."
"Parking enforcement is generally the responsibility of the East Riding of Yorkshire Council and we provide enforcement or action under certain circumstances, " said Sgt Whitehead.
"This is not the case in this instance."
In a statement, the council said: "It is not a parking offence for drivers to park on pavements or verges unless there are parking signs to prohibit that.
"But we would always urge people to park sensibly and not cause obstructions to residents or other road users.
"If someone is causing an obstruction to the highway that is a matter that should be raised with the police."