UK City of Culture: Broken train causes MP's rush to Hull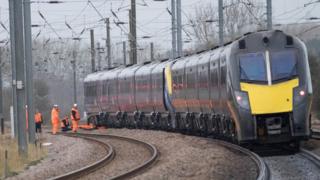 The arts minister had a last-minute rush to announce the next UK City of Culture after the train he was on was stranded for hours.
John Glen MP revealed Coventry as Hull's successor live on The One Show, but his train from London to the city broke down near Peterborough.
Dozens of passengers were aboard the 09:48 service, with Hull Trains blaming a "catastrophic engine failure".
Hull Trains apologised to those on board the service.
The BBC previously reported Phil Redmond, chair of the UK City of Culture panel, was to fill in for the MP due to his delayed journey, but Mr Glen arrived in Hull in the nick of time.
Engineers initially thought the train had struck something, but it later emerged it had suffered engine problems.
A Hull Trains spokesperson said: "We have now been able to move passengers on to another train which will take them to Peterborough and on to their destinations."
In a tweet, the Conservative MP for Salisbury praised the staff onboard the service for being "magnificent" and said he had filled his time by writing Christmas cards. ;