'Bee Lady' Jean Bishop and culture city leaders honoured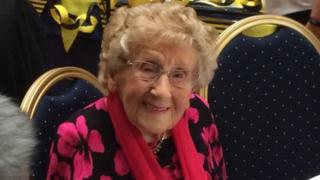 A woman, known as the Bee Lady, who has raised more than £115,000 for charity has received a British Empire Medal in the New Year Honours.
Jean Bishop, 95, from Hull, collects the money dressed in a giant bee costume and has raised the money over the past 25 years.
Mrs Bishop's honour was given for services to Age UK and to charity.
"This year has topped everything, it's beyond my wildest dreams. I don't really know what to expect", she said.
"I have no plans to retire, there isn't such a word", she added.
Earlier in the year she became the second woman to be granted the Freedom of Hull.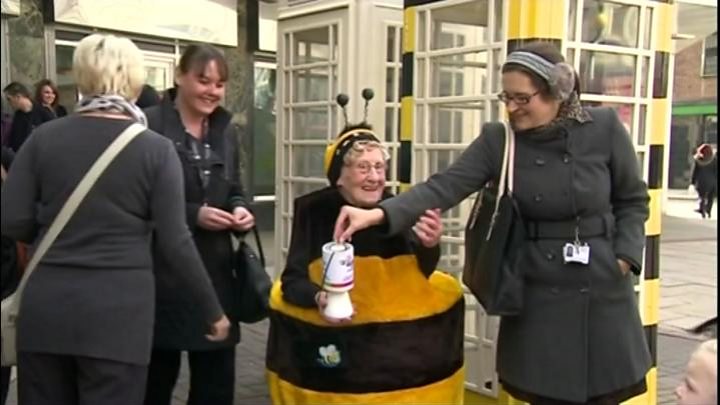 Mrs Bishop got involved with a knitting class at her local Age UK after the death of her husband and then started fundraising.
The Bee Lady had previously said she was reluctant to collect money at first but had "gone down like a bomb" dressed in the costume.
The city of Hull has also been recognised with awards highlighting the impact of City of Culture 2017.
Stephen Brady, Hull City Council leader, who receives an OBE, said: "These awards are, without doubt, recognition for the people of Hull."
Martin Green, director of Hull UK City of Culture receives a CBE, Rosie Millard, chair of Hull 2017 and Fran Hegyi, executive director of Hull 2017 both receive an OBE.
In a joint statement, the three said: "The response to the year has exceeded all our expectations and we look forward to Hull continuing to shine brightly on the national stage."