Beverley Minster 'bishop's ring' expected to make thousands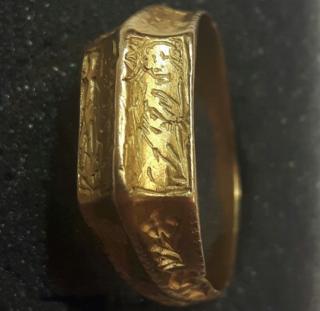 A rare medieval "bishop's" ring found by a metal detectorist in a field close to Beverley Minster is expected to sell for thousands at auction.
The ring, which features an engraving of St George, has a guide price of between £8,000-£10,000.
Adam Staples, from Hansons Auctioneers, said the 20-carat gold ring probably belonged to a bishop, or nobleman.
He said the rare item, found in a farmer's field, was expected to be highly sought after.
More on this and other stories from across East Yorkshire and North Lincolnshire
"Only high-ranking figures such as bishops or nobility would have been able to afford a ring of such high quality featuring fine decorative engraving and faceting," Mr Staples said.
"It may well have belonged to a bishop from Beverley Minster and would have been commissioned."
The ring, which dates back to between 1450-1550, was found by metal detectorist Adam Day.
Mr Day, 30, from Hull, said he knew he had found "something special".
He said: "I was shaking when I found it. It was quite close to the surface, not buried deep in the ground. It is engraved with St George and St Catherine and features floral emblems."
"I have had some interesting finds before including a Bronze age axe and Celtic brooch but this is the best yet," he added.
Previously, a medieval gold brooch believed to have been lost by a baroness more than 500 years ago was found near the moat of a Leicestershire castle.
The brooch, which had a guide price of £6,000-£8,000, sold for £20,800.
Mr Staples said there was a high demand for such items.
The ring is due to be sold at auction in Derbyshire on 24 January.