Young's Seafood announces it is up for sale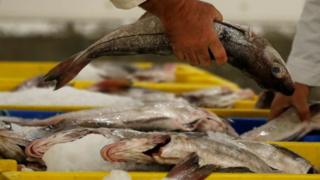 Young's Seafood has been put up for sale.
The company has about 1,700 members of staff in Grimsby at its headquarters, product development and manufacturing sites, and about 2,000 in Scotland.
A spokesman said it is the town's biggest private employer and the UK's leading seafood supplier.
Dave Monaghan, from Unite the union, said the announcement has been in the pipeline for two years and "comes as no surprise".
More stories from East Yorkshire and northern Lincolnshire
A Young's spokesman said: "We intend to start a structured and open bidding process with all interested parties."
The company has a turnover of more than £500m and also has five sites in Scotland employing nearly 2,000 people.
Talks are currently being held to try to save hundreds of jobs at a closure-threatened seafood plant in Annan, south west Scotland.
Mr Monaghan said: "We would hope any further investor comes from the fish and food processing industry, time will tell.
"And that whoever purchases the business will maintain investment in the Grimsby area."
The company has been in business for more than 200 years and based in the northern Lincolnshire port for more than 50 years.
The formal notice of sale was issued at 09:00 BST by the board of managers of current owner Lion/Gem Luxembourg.
There is no timescale for the bid but creditors are to be kept informed, said the announcement.