Funds raised for Hull DIY SOS volunteer after tool theft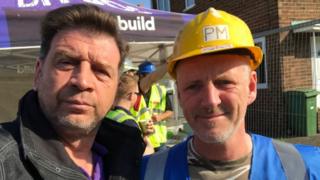 Strangers have donated thousand of pounds to a soldier-turned-builder whose entire tool collection was stolen while volunteering on DIY SOS.
Paul Matson was helping renovate a house in Hessle, near Hull, for the BBC programme when he found his van had been ransacked overnight.
Tools have been donated and more than £3,000 was raised after the theft was highlighted on social media.
Mr Matson said: "It's such an amazing response from every walk of life."
Read more stories from across East Yorkshire and northern Lincolnshire
Thieves broke into Mr Matson's Mercedes Sprinter van when it was parked outside his home on Main Street in Bilton overnight on Wednesday.
Mr Marston, founder of veterans charity Hull 4 Heroes, had about £4,000 worth of tools stolen.
Offers of help came after his Facebook post was shared nearly 3,000 times and DIY SOS presenter Nick Knowles tweeted about it.
Mr Matson said: "As soon as I walked onto the DIY SOS site yesterday lads were putting tools in my bag and saying 'have this, have that'.
"One fireman dropped me off £200, and then I came home to money coming through my letterbox."
Mr Matson, who was a Lance Bombardier in the Royal Artillery from 1980 to 1984, said a local company had also offered to replace his tool collection, which had been amassed over 20 years.
He said so many tools had been donated that some of them could also be given to his charity, which renovates homes for veterans.
"When this happened someone said it was typical of people from Hull stealing but that's not right," he said.
"There might be one or two thieves out there, but to replace the tools, the people of Hull are absolutely fantastic in my eyes."