Hope missing Hull woman Renata Antczak 'will come back'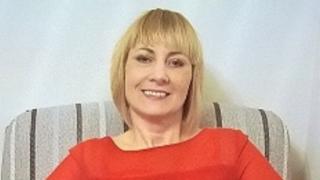 The family and friend of a woman who went missing after dropping her daughter off at school a year ago hopes "maybe she'll come back".
Renata Antczak, 49, was last seen near her home in Beamsley Way, Hull, after taking her child to school on 25 April 2017.
No body has been found and police are treating the case as a murder inquiry.
Her friend Joanna Fractzak said: "I hope maybe she'll come back. In our hearts she's still alive".
Ms Antczak's sister, Danuta Szulc, said: "I miss her terribly.
"Perhaps she'll still get in touch.
"We have to carry on living and thinking that everything's going to be ok."
Ms Fractzak described her friend as a "very nice and lovely person who wanted to help people".
"I can't believe she's missing. She loves her children. She was doing everything for them.
"She was here one day and gone the next. It's very strange."
Ms Fractzak said the pair became friends six years ago through her work when Ms Antczak joined as a volunteer to help homeless Polish people.
"The last time I spoke to her was in Easter [last year]. She was tired... and unhappy."
Ms Antczak's dentist husband Majid Mustafa, 48, from Hull, was sentenced earlier this month for trying to encourage a friend to get a date rape drug to use on his wife to find out if she was having an affair.
He was handed a 12-month conditional discharge at Doncaster Crown Court after admitting intentionally encouraging another to commit an offence.
Police said detectives were still following lines of inquiry in the UK and Poland, where her family live, and have appealed for anyone with information to come forward.
Det Sup Tony Cockerill, of Humberside Police, said he had "significant concerns that some harm may have come to her".
"There's no good reason why she would've gone missing. We're not getting people telling us they've seen Renata.
"There's been no sightings of her and so we're pursuing all lines of inquiry that might lead us to where she might be or what's happened to her."