Ziggy Stardust-themed student house opens in Hull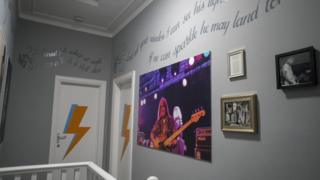 A renovated student house in Hull has been themed around the rock group Spiders from Mars, David Bowie's 1970s backing band that hailed from the city.
Spiders House in Auckland Avenue contains memorabilia donated by drummer Mick "Woody" Woodmansey, the last surviving band member.
Woodmansey said he was excited to see his life "immortalised in a liveable time capsule".
The developers said it wanted the house to be a "fitting and lasting tribute".
More stories from East Yorkshire
Woodmansey, who will officially open the five-bedroom house, said: "It's really something special to see one of the most exciting periods in your life immortalised in a liveable time capsule.
"There's been so many Bowie and Spiders fans involved in this, through generous donations of gig photos and specially commissioned artwork from local Hull artists."
The Spiders from Mars was comprised of guitarist Mick Ronson, bassist Trevor Bolder and Woodmansey.
They played on influential records including Bowie's concept album The Rise and Fall of Ziggy Stardust and the Spiders from Mars (1972) and Aladdin Sane (1973).
Ronson died in 1993, aged 46, and Bolder in 2013, aged 62.
Richard Stott of developers Kexgill Group said the house, which will be rented out by the University of Hull, was "laced with local music history" related to Woodmansey, including his 1960s band The Rats, and tributes to Bowie.
Jane Scorah who helped design the house said it was an "eclectic mix of functionality and retro furnishing" with a "cheeky 70s twist".
It might have tiger-skin shower tiles, Perspex chairs and original light fittings but it also has modern touches such as in-built Bluetooth speakers in the communal areas, she added.