Charity rescues 50 feral kittens in Kent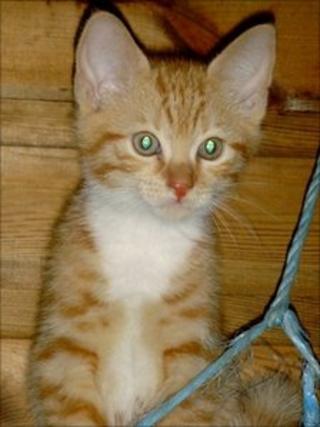 A Kent animal charity has rescued 50 feral kittens from a residential area of Dartford.
Staff at Happy Endings Animal Rescue have spent months using sardine bait to humanely trap the animals.
The charity, based near Sevenoaks in Kent, said it was likely the population surge was sparked by an unneutered pet cat.
Chris Johns, the charity's co-founder, said: "It was quite a shock. There were cats everywhere.
"They were in the outbuildings, hiding in the undergrowth and bushes.
"They had not been neutered and kept breeding and the situation had got out of control."
Veterinary nurse Terry Kemp said: "It took a lot of time to catch them.
"We had to keep going back to check the traps at regular intervals, all hours of the day and night, and rescue the cats inside them."
The charity said the rescued kittens have all been microchipped, and given a full health check with vaccinations.
Mr Johns said the charity is still looking to re-home 20 of the kittens.