Emergency flood response tested at Sandwich Quay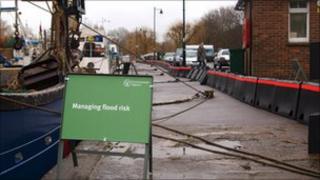 Flood defences will be tested by the Environment Agency during a high spring tide in Kent this week.
The agency is staging an exercise at Sandwich Quay on Thursday morning, when demountable flood defences will be tried out.
The portable flood defences are being used in the area until permanent structures have been built.
Spokesman Paul Marshall said the training exercise aimed to put the emergency response to the test.
Mr Marshall, area incident response team leader, said: "Training exercises are vital to ensure we can appropriately deal with an emergency situation should it occur.
"Each year the high spring tide provides an ideal opportunity to test these demountable flood defences and demonstrate how they would work in the event of a real flood incident."
He said the Kent coastline was going to come under increasing pressure and climate change would increase the likelihood of flooding, so it was important to be prepared.
The higher-than-normal tide at 0900 BST on Thursday is forecast to reach a peak of 11ft (3.5m).
During the exercise, more than 557ft (170m) of portable flood defences will be deployed along the seafront.