No appeal over Kent International Gateway depot plan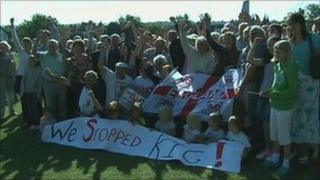 Developers behind the failed plans to build a road-to-rail freight depot in the Kent countryside have decided not to lodge a further appeal.
Axa said Kent International Gateway (Kig) north of Bearsted near Maidstone would have provided about 3,500 jobs
But the government threw out the plans in August following a nine-week public inquiry at the end of last year.
Maidstone residents who fought the plans for more than three years are hosting a street party to celebrate.
'Lost opportunity'
Axa had argued the depot, which would have covered 110 hectares, would have removed millions of tonnes of freight from HGVs, putting it on trains instead.
Bearsted was chosen because of its location, close to the M20 and the high-speed rail link.
Opponents of the depot said their lives would be blighted by lorries passing through Bearsted to the unit.
James Owen, a senior fund manager with Axa, said he was disappointed.
He said: "We fear this may be a lost opportunity by the government to create something economically and environmentally positive for the county on a site ideally suited for purpose."