'Celebration' for Turner gallery opening in Margate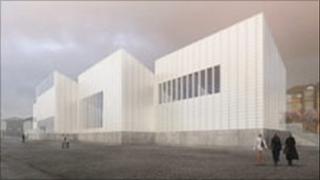 A little-known painting by JMW Turner will form the centrepiece of the opening show at a £17.4m art gallery in Margate which will bear his name.
The Turner Contemporary, on the seafront site of a cottage where the 19th Century artist lived, will open to the public on 16 April next year.
Turner's painting, The Eruption of the Souffrier Mountains, will be on loan from the University of Liverpool.
Gallery director Victoria Pomery said 16 April would be a great celebration.
"I am thrilled that we are able to announce our opening date and look forward to welcoming thousands of visitors to the gallery," she said.
The gallery will show a combination of contemporary art and historical work, but will focus on Turner's legacy.
The opening exhibition will also feature the work of Daniel Buren, Russell Crotty, Teresita Fernandez, Douglas Gordon, Ellen Harvey and Conrad Shawcross.
Costs spiralled
Building work on the gallery, designed by 2007 architect David Chipperfield, started in November 2008.
An earlier design by Norwegian architects Snohetta and Spence, for a gallery to be built in the sea, was abandoned when costs spiralled to nearly £50m.
The gallery is the focus of plans to regenerate the Kent town.
Thanet Council has pledged to bring empty shops back into use and improve the town's signage, lighting, seafront shelters, railway station forecourt, and Arcadian Hotel.
The Arts Council England, the South East England Development Agency and Kent County Council are among bodies which provided funding for the gallery.
"The opening of Turner Contemporary marks the start of an extraordinary opportunity for Margate and Thanet to become one of the UK's most compelling culture and tourism destinations," said the gallery chair, John Kampfner.
The opening show will be followed on 17 September by an exhibition, Nothing in the World but Youth, looking at youth experience through art, culture and the media from the late 19th Century to the present.