Thieves take snakes worth £45,000 from Teynham shop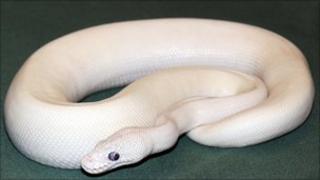 Snakes and lizards worth £45,000 have been stolen from a shop in Kent.
The 66 snakes, mostly royal pythons, and three lizards, were taken from Lost World Reptiles in Teynham.
Owner John Harrison said he was devastated as he had reared many of the snakes from young hatchlings and now feared they would die.
"These snakes and lizards need specialist care and our greatest fear is that whoever has taken them won't look after them properly," he said.
Most of the snakes stolen are royal pythons of different colour morphs.
The most unusual is a pure white royal python with blue eyes, and the biggest is a red blood python.
The three lizards taken were rare Kimberley rock monitors.
Anyone offered the snakes or lizards for sale is urged to contact Kent Police.