Heating oil thieves target Kent church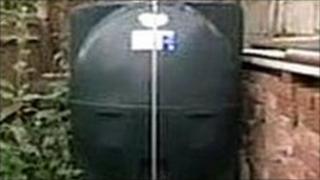 Thieves have taken a church's supply of heating oil in the latest incident in a spate of oil thefts in Kent.
Police said oil worth about £600 was taken from a tank at the Ancient Church of East Farleigh near Maidstone between Monday and Thursday.
Churchwarden Barbara Bartlett described the theft of the oil as a "great blow".
Officers are investigating at least six other recent reports of oil thefts, with the value of oil taken ranging from £250 to £1,000.
Police made two arrests last week and seized a specially-adapted vehicle.
Organised criminals
Det Insp Susie Harper has said the rising price of oil is thought to be behind an increase in thefts.
She said: "There has been an increase in the theft of heating oil this winter and we want people to be aware that it is happening in rural areas, not just in Kent but across the country."
She said oil thieves fell into two categories - opportunists using rudimentary equipment to siphon off oil, and organised criminals who had adapted vehicles and siphoning and storage equipment to steal the fuel.
Det Insp Harper appealed for information about the latest theft and said inquiries into other thefts across Kent were still continuing.
People have been urged to secure their oil supplies by fitting a gauge to set off an alarm if the tank's oil level suddenly falls, using padlocks, installing security lights and a lockable cage, and planting a thorny hedge to deter thieves.