Kent County Council in £1m blitz on potholes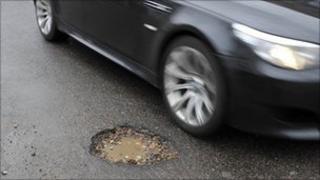 A local authority has doubled the number of crews working to repair the county's roads during a £1m month-long blitz on potholes.
Kent County Council (KCC) said there were now 60 teams fixing the road network following an increase in potholes during the recent icy weather.
Council leader Paul Carter said spending money on repairing potholes now would save money in the long-term.
He said: "We are getting in specialist firms to tackle this head on."
'Largest road network'
Mr Carter added: "They will aim to make a permanent fix first time where they can.
"Everyone is aware that the public purse is under pressure.
"We are investing this money wisely now to reduce what would be a bigger bill further down the road."
KCC said it spent £6.5m, fixing about 31,000 potholes and 122,000 square metres of road surface during a six-month campaign last year.
The local authority is responsible for more than 5,000 miles (8,050km) of roads.