Dartford MP's concerns about Darent Valley hospital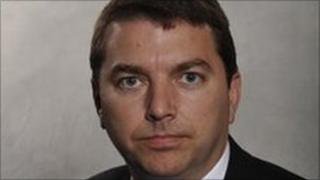 A Kent MP has written to the health secretary expressing concerns about pressures on a hospital in the county.
Darent Valley Hospital in Dartford had an influx of patients after Queen Mary's Hospital in Sidcup shut its A&E and maternity services for the winter.
Dartford MP Gareth Johnson has written to Andrew Lansley seeking reassurances that the closures are temporary.
The union Unison has concerns the hospital is not coping. The hospital says it has recruited extra staff.
Queen Mary's Hospital, in south-east London, announced in September 2010 it was having to make the closures because of severe staffing problems.
Conservative Mr Johnson said: "Clearly after the closure of the A&E department at the Queen Mary's Hospital and the maternity service there, this has added extra strain on to staff at the Darent Valley Hospital.
'Coped admirably'
"The critical issue here is whether the closure of the A&E and maternity services is going to be temporary or permenant."
Simon Bolton, from Unison, said: "The closures at Queen Mary's at Sidcup has forced even more people to go to Darent Valley and it is pushing them over the edge."
Darent Valley's director of nursing, Jenny Kay said they had staffed three extra wards and the increase in patients was not a surprise.
She added: "We did plan for it, we have been recruiting staff in both the emergency areas and midwifery and in many ways I think the staff have coped admirably."
Last week, Darent Valley Hospital apologised after a 71-year-old man was left on a ward all day alongside two dead bodies.
Debbie Pope said her father, Fred Corbett, who was admitted to the hospital in December, was distressed by the incident.