Kent recycling firm Ling Metals fined over worker death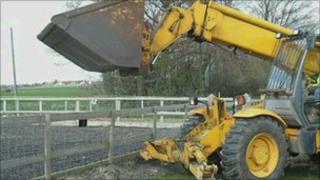 A Kent recycling company has been fined £200,000 after a forklift truck overturned and hit a worker, leading to his death.
Ling Metals Ltd, of Parham Road, Canterbury, pleaded guilty to breaching health and safety laws before magistrates in the city in November.
The company was sentenced at Canterbury Crown Court on Friday and also ordered to pay £11,384 in costs.
Darren Baker, 35, died two days after being hit by the truck in 2007.
He had been helping to lay a new horse riding surface of crumbled rubber in Minster on 19 March that year.
A colleague had been driving a forklift truck with an extendable arm and Mr Baker, from Thanington, walked across the path of the boom as the machine reached its balance point and tipped forward.
The bucket hit him on the head, knocking him to the ground.
The operator managed to bring the vehicle back to upright, but Mr Baker died in hospital from multiple injuries.
A Health and Safety Executive (HSE) investigation found the Safe Load Indicator on the machine had not been correctly calibrated and was unusable at the time.
'Lacked understanding'
A safety certificate had expired before the incident happened, and an engineer had been unable to inspect and repair it because of its poor condition.
The HSE also found the operator had not been told how much the bucket weighed or how much a load of rubber weighed.
The operator also lacked understanding of the machine instructions which showed how much it could lift and how far the boom could be extended, the HSE said.
After the sentencing, HSE inspector John Underwood said: "This was a wholly avoidable incident which led to unnecessary loss of life."