Sandwich urged to cash in on 2011 Open Championship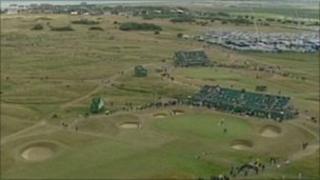 Civic chiefs and businesses in Sandwich have said they hope July's Open Championship will help soften the blow of the loss of its biggest employer.
A meeting to discuss the impact of the tournament on the area was overshadowed by news of Pfizer's plans to move out.
But tourism and business bodies view the return of the golf event to the town as an opportunity.
And Dover District Council said a key need was provision of temporary bed and breakfast accommodation.
The council and its county colleagues hosted a neighbourhood forum to outline the plans so far, encouraging the people of Sandwich and east Kent to play their part.
Councillor Nigel Collor, who chairs the Open Golf Project Executive, said organisers hoped the event at the Royal St George's course would match the 200,000 attendance enjoyed by St Andrews during last year's championship.
'Selling the legacy'
And he hopes the four-day event - on 14 - 17 July - will generate income that will be even more vital to the area in light of Pfizer's announcement that it is severing its ties with the town.
The economic benefit to the region the last time it was held in Sandwich was estimated at £17.6m.
Mr Collor said: "I understand from the Royal & Ancient [which runs the Open] that ticket pre-sales so far are roughly on par with what they have been last year, so hopefully people will be thinking there is a feelgood factor here."
Many people have already been in touch with the R&A regarding letting out their homes for the week of the Open - a move that Mr Collor said could rake in considerable sums for individuals.
But he said council organisers were also keen to hear from people prepared to let rooms to players, their entourages and officials.
"The phrase I would use is selling the legacy," he said. "We want these people to come down and say 'I like it down here and I'm coming back', especially in the light of the Pfizer situation."
Police, planners and highways officials have been working on preparations for the event, including improved signage and a park-and-ride scheme.