Fears for Pfizer nature reserve after Sandwich decision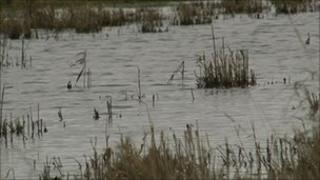 The decision by drug maker Pfizer to close its research facilities in Kent has left a question mark over the future of a nearby nature reserve.
The Pfizer Monks Wall Nature Reserve, in Sandwich, which covers 69 acres, is owned by the company but leased to Sandwich Town Council without charge.
It is used for educational visits by local schools and colleges.
Warden Dr Martin Griffiths said: "We are very concerned indeed. Decisions have to be made."
He said the site was a "valuable resource".
"Lots of people come down to see the wildfowl and all the butterflies and damsel flies.
"It would be a great shame if this was all lost."
The US-based drugs company announced on Tuesday that it was closing its research and development site in Sandwich, which employs 2,400 people.
It said several hundred jobs would be transferred to other UK sites or partner organisations.
Staff at the company's wildlife club are regular visitors and volunteers at the wetland nature reserve.
Dr Griffiths said in the past, the nature reserve had just been a field which was grazed by a local farmer.
"That farmer sold it to Pfizer, and we approached Pfizers and they eventually allowed us to run it on a lease with a management committee, including Pfizer, the town council and Sandwich Bay Bird Observatory.
"It's important that it continues.
"A lot of investment has been put into it - not just in money but also in manpower, and in the construction of the reserve," he said.
Dr Terence Clifford-Amos, mayor of Sandwich Town Council, added that it was "highly important as a place for migratory and non-migratory bird life and for grazing and for flora and various types of fauna".
Pfizer was unavailable for comment.