Man accused of planting car grenade 'went to help wife'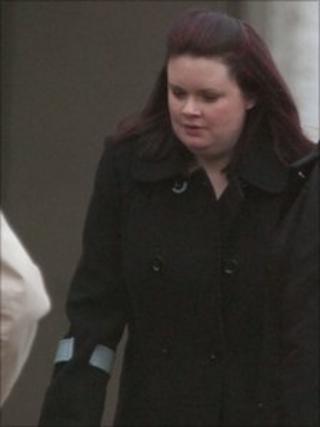 A former soldier accused of trying to murder his wife has told a court he did not plant the grenade that blew up her car and that he helped her afterwards.
Victoria Fabian, 33, was pregnant when she suffered severe leg injuries in the explosion in Vigo, Kent, in March 2010.
Her eight-year-old son, also in the car, and her unborn child were unhurt.
Nicholas Fabian, also 33, denies attempted murder, causing grievous bodily harm with intent and causing an explosion likely to endanger life.
Giving evidence at Maidstone Crown Court on Tuesday, he denied planting the grenade or causing the explosion.
He said that immediately after the blast, the car and his wife's legs had been on fire.
"I put it out with my hands, I believe," he said.
"Her leg was bleeding badly. It was pumping out so I put a tourniquet around the top of her leg to stop the flow of blood, and also just below the kneecap I put one as well."
He said he had then got his neighbours to bring out blankets and pillows and had held Mrs Fabian's hand while they waited for the emergency services to arrive.
"I was trying to save her life," he said. "In my head I was thinking I was going to lose her and lose the baby as well."
He admitted that he later lied to police over his affair with lover Jackie Phillips, telling them it was over.
"I was embarrassed and ashamed," he said. "My wife's down in hospital and basically I wanted to get out of there so I could get home.
"At the time I was scared, panicked, and my head was all over the place."
Ms Phillips has previously told the court Mr Fabian had promised he would leave his wife for her.
On Tuesday he admitted he loved Ms Phillips but said he had never told her he would leave his wife.
He said he felt "ashamed" of himself for cheating on Mrs Fabian.
Mr Fabian, who served in the Army between 1994 and 2004, remained a reservist soldier and had been called up for a six to eight-month tour of duty in Afghanistan.
The Crown alleges he stole the hand grenade that blew up Mrs Fabian's car during a training exercise at a firing range in North Yorkshire.
Asked whether he did this, he answered "No, I did not", adding that there would have been no opportunity as he was never alone and was searched following the exercise.
He told jurors that other items that were found in his house and garden shed, including broken down fireworks that the prosecution alleges could have been used to make homemade bombs, were in fact to make a rocket for his sons.
Fabian, who has pleaded guilty to possessing ammunition without a firearm licence, also said a flare found in his bedroom cupboard must have been brought home accidentally.
The case continues.