Kent widow's anger at convicted killer's Facebook brag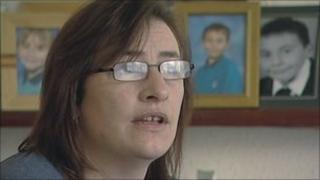 A widow has spoke of her anger after one of her husband's killers apparently posted offensive comments about the attack on Facebook.
Curtis Delima, 22, was jailed with two others for stamping to death Mark Witherall, 47, in Whitstable, Kent, in January 2007.
In a post on the social networking site, Delima reportedly wrote how he had killed "for fun".
Mr Witherall's widow, Michelle, said she was "dumbfounded".
Delima was convicted of Mr Witherall's murder in April 2008 along with Mark Elliott, now 24, and Gerry Cusden, now 19.
During their trial at Maidstone Crown Court, the judge said the trio had behaved like a "pack of hyenas" after Mr Witherall confronted them trying to burgle his home.
The court heard how they kicked and stamped on Mr Witherall as he lay on the ground before stealing items from the house.
'Absolutely disgraceful'
He died after being on a life support machine for more than five weeks.
In his full post, Delima reportedly wrote: "Who cares I've killed people for fun an no! dow believe me check it up."
The post was taken down on Thursday.
Ms Witherall, who had two children, aged 10 and 12, by her late husband, said: "I am dumbfounded that he's allowed to get on there and do that, trying to act big.
"He didn't find it funny when he was crying in the courtroom.
"It's about time that the Ministry of Justice and everybody else and the prison governor does something about it.
"They're scumbags. Why should they be online? He's admitted he's killed my children's father for fun, for a laugh.
"It's not a punishment in there anymore, it's a holiday camp."
Julian Brazier, the Conservative MP for Canterbury, said: "It seems to me absolutely disgraceful.
"I think that first of all he should be punished for it.
"Secondly, when the time comes to consider him for parole, this should be taken into account and it should be a strong reason for keeping him inside for a lot longer."
In September 2009, Elliott boasted, also on Facebook, about his relaxed life behind bars, saying he spent time in the gym and playing computer games.
A spokesman for the Prison Service said it worked with Facebook to take down the profiles of prisoners when they were updated from jail or updated by third parties from outside.
He added that the service worked hard to keep mobile phones out of prison and it was an offence to possess a mobile phone without authorisation.
Update 30 March 2011: The Ministry of Justice subsequently investigated this matter and said there was no evidence that Curtis Delima had posted the remarks but there were indications that a third party in the community was responsible. This is covered here in a further report on this issue.