Medway residents complain about street party red tape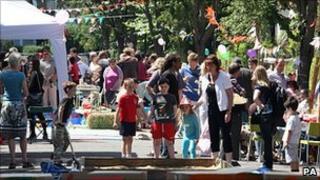 Residents in a Kent street have threatened to abandon plans for a royal wedding street party because they say there is too much council red tape.
Hayley Mills and her neighbours had been planning an event for their Rochester street on 29 April.
But they were told by Medway Council they would have to comply with a 30-point plan to ensure public safety.
The council said it needed to ensure the parties were safe and engineers were available to help people comply.
'Safe way'
Ms Mills said: "You can't even tie banners around a lamppost - any bunting cannot be below 16ft 6in high. It's turned it into a big corporate event.
"The most frightening thing is that as the organiser you have to have £5m public liability insurance, so that immediately puts it on a totally different path."
However, Robin Cooper, director of culture and community at Medway Council, said: "We are having parties on roads. Roads are designed for cars so we need to make sure that whatever happens it's done in a safe way.
"If people have got problems with the form, give us a call and I will get one of our engineers to call round and help them fill it in."
'No excuse'
Mr Cooper also said the council wanted everyone to enjoy the royal wedding and it had put £25,000 into the budget to facilitate the road closures needed for street parties.
Local Government Minister Bob Neill said: "There's no excuse for excessive red tape from councils.
"Whitehall has done its bit to remove expensive road closure bureaucracy and introduced a new streamlined, simple form for organisers to use.
"Councils should now do their bit to support this national day of celebration and ensure that everyone's energy goes into the fun part - not trawling through reams of paperwork."