Dorton campus for blind makes improvements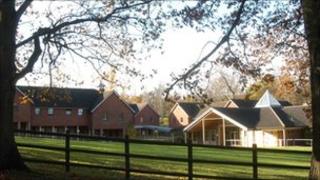 The head of a charity that runs a blind school and college in Kent has said he is confident of making improvements after investing £1m.
Dr Tom Pey, the chief executive of the Royal London Society for the Blind, said the charity had taken "decisive action" to improve the Dorton campus.
Dorton College was rated unsatisfactory by Ofsted inspectors last year. The school was recently rated satisfactory.
Dr Pey said: "There is still much to do but I am grateful to all the staff."
'Happy school'
Dorton College of Further Education has around 50 blind or partially-sighted students over the age of 18 while the school has about 20 children aged between five and 16.
The latest Ofsted report for the school said it was a "happy school with confident pupils" and pupils' behaviour was "outstanding".
However, inspectors said other elements, including residential provision and educational assessment, needed to improve.
Dr Pey said: "This report is encouraging.
"It shows we were right to spend £1m in the current year to improve standards at the Dorton campus."
Update: The story was changed after it transpired that the latest Ofsted report referred to the school, which is part of the Dorton campus. Ofsted treats the school and college separately but resources are shared.