Sellindge residents oppose sludge plant proposal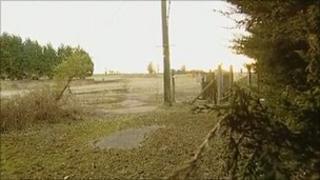 Residents in a Kent village have vowed to continue their fight over plans for an industrial sludge processing plant.
Kent County Council has backed the scheme in Otterpool Quarry, Sellindge, near Folkestone, with the unit also handling kitchen and garden waste.
Villagers have expressed concern about the smell and 170 trucks a day bringing 95,000 tonnes of waste a year.
The plans were first announced three years ago, and councillors are due to make a decision on 15 March.
'Ugly buildings'
Ronald Lellow, from the Sellindge Residents' Association, said: "This is not a place for a huge operation of a chemical nature."
He said there were "many sensitive places of beauty and scientific interest" in the area, and the scheme would be better placed in an industrial area.
Protect Kent, the local arm of the Council for the Protection of Rural England, has also opposed the proposals, and urged councillors to reject the application.
Sean Furey, deputy director, said: "We have long argued that the Otterpool scheme is unacceptable because of risk of groundwater pollution, the visual impact of these ugly industrial buildings and up to 168 lorry movements in and out of the site every day.
"And when it breaks down, goes wrong and waste starts piling up at the site? Then the flies and stench will make the lives of those around utterly miserable."