Sellindge sludge plant agreed amid villagers' protests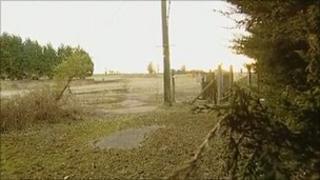 Plans to build an industrial sludge-processing plant in Kent have been agreed by councillors despite protests being held outside County Hall.
Coaches were laid on to take the demonstrators from the village near Folkestone to the meeting in Maidstone.
Councillors voted for the scheme in Otterpool Quarry, Sellindge on Tuesday.
A Kent County Council report said the plant would be on a brownfield site and help reduce landfill, but opponents are concerned about its impact.
The Campaign to Protect England (CPRE), which organised the protest, said villagers were also fighting plans for a lorry park, housing and a wind farm.
Climate change
Sean Furey, deputy director of Protect Kent, the county's branch of the CPRE, said it was a "sustained onslaught" on areas of land near junction 11 of the M20.
A council report submitted to the meeting said the quarry was a brownfield site and the plans would help to improve waste recovery rates and reduce landfill use.
It said the plant would also reduce the impact of climate change, cut carbon dioxide emissions and produce electricity from waste.
Councillors were recommended to approve the plans, subject to conditions on issues including vehicle movements, contamination, access, landscaping, operating hours, noise controls and dust and odour management.
The company behind the plans, Countrystyle Recycling Limited, has not yet commented on the decision.