Parliamentary debate over Medway city bid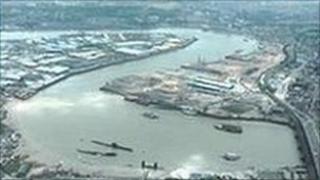 A campaign for Medway to be given city status is to be discussed in a parliamentary debate.
Gillingham MP Rehman Chishti has secured the debate on Thursday and will address Mark Harper MP, the minister responsible for 2012 city bids.
Mr Chishti said it was fair to say Medway was a city in "all but name".
On Monday, it emerged that Medway Council had been stopped from using the word city on a tourism leaflet by the Advertising Standards Agency (ASA).
Mr Chishti said: "I am delighted to have secured this important debate.
"I grew up in Medway and it's a fantastic place to live with a rich heritage, innovative enterprise, sporting excellence, festivals, concerts, art exhibitions and a strong community."
'Investment and jobs'
The MP also raised Medway's city bid in his maiden speech on 8 July.
This week, Medway Council was told it could not use the word city on a promotional leaflet because Medway had not been granted city status.
The ASA said the logo "City of Medway, rich heritage, great future" was misleading.
The Medway towns - Rochester, Strood, Chatham, Gillingham and Rainham - have launched a joint bid for city status during the Queen's Jubilee Year in 2012.
The council said it found ASA's ruling "staggering" and "a waste of time".
The council believes being recognised as a city rather than a series of towns will bring investment and jobs to the area.
Medway made two unsuccessful bids in 2000 and 2002. On the last occasion it lost out to Brighton and Hove.
The ASA is publishing its ruling on Wednesday and would not comment ahead of publication.