Inmate jailed for Swaleside Prison attack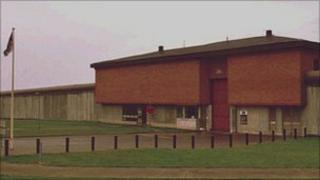 A prison inmate who attacked two Kent jail officers has been given another six-year term.
Adrian Hylton, 29, was convicted of causing actual bodily harm and unlawful wounding by an Old Bailey jury at an earlier hearing.
The south east London man tried to gouge out an officer's eye and stabbed the other man with a plastic knife at Swaleside in June 2009.
He attacked the men after being let out of his cell to collect his breakfast.
At the time of the incident, he was serving an indeterminate sentence for public protection after a robbery. He also had a previous conviction for attacking prison officers.
The court heard Hylton will remain in prison even after serving half of his sentence until he is judged to be no longer a danger.
'Frightening violence'
Judge Stephen Kramer said: "This was an explosion of totally unjustified and unlawful violence against prison officers who were simply doing their duty properly and professionally."
The judge said CCTV footage of the incident had showed a "frightening" level of violence and left the victims suffering "psychological trauma".
The court heard Hylton, from Herne Hill, attacked Lance Williams with a prison-issue plastic knife, leaving him cut, scratched and bruised.
Two other officers tried and failed to restrain Hylton and more officers had to be summoned to get him under control.
During the struggle at Swaleside, on the Isle of Sheppey, Hylton also attacked Iain Fleming by trying to gouge out his eye.