Kent firefighter describes fading hope in Japan rescue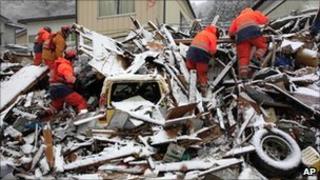 A Kent firefighter in Japan as part of the UK search and rescue effort has described how hope of finding survivors of the earthquake and tsunami faded.
John Mazzey, one of seven Kent staff who arrived in Japan on Sunday, said that at first they hoped to find people alive, but were unsuccessful.
They were sent to Ofunato City, where hundreds of houses were washed away and infrastructure badly damaged.
"We were still in the rescue stage and hoped to locate survivors," he said.
"We were hearing stories from up and down the coast of others who had been pulled out alive.
"But as time went on, it became clear that we weren't going to be as successful as we were hoping to be."
On Wednesday the team travelled about 20 miles (30km) north to Kamaishi, where 1,000 people were reported missing.
"We located quite a lot of people who didn't survive the tsunami and have been able to assist the local services in reuniting the bodies with their families," he said.
"The areas we have been working in are [scenes of] total devastation, where sometimes entire houses have just been ripped off their foundations and smashed against other houses.
"Industrial areas have been completely flattened, with large quantities of industrial waste and fish and things all over the place.
"It is quite an unbelievable thing to see."
The Kent firefighters were part of a team of 59 UK fire service search and rescue specialists, two rescue dogs and a medical support team sent to Japan.
It included staff from Cheshire, Greater Manchester, Hampshire, Lancashire, Lincolnshire, West Sussex, West Midlands, and Mid and West Wales Fire and Rescue Services.
They have now finished their search operation and are waiting for arrangements to be made to fly them home.
Mr Mazzey said the team was fit and well and morale was excellent.
"We have been been sleeping in a sports hall with two US teams and the dogs as well," he said.
"We have been woken most nights by aftershocks, but the building is designed to take that and we have been relatively comfortable."