Kent firefighters return home from Japan rescue mission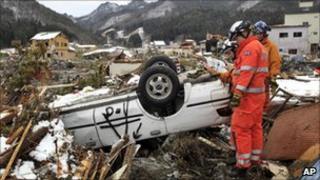 A senior Kent firefighter has said he is "extremely proud" of his colleagues who were part of the UK search and rescue effort in Japan.
Seven staff from Kent Fire and Rescue Service (KFRS) flew to Ofunato City on 13 March to search for survivors of the earthquake and tsunami.
The team arrived back at their Maidstone base at 2330 GMT on Saturday.
Steve Demetriou, the director of operations at KFRS, said: "I am delighted that they are back safely."
He added: "During their time in the stricken country they experienced some very difficult conditions and are truly special people to be able to work in these types of situations."
'Humbling experience'
"Our thoughts are with the Japanese people as they continue to come to terms with the disaster and move forward to try and rebuild their shattered lives."
The Kent firefighters were part of a team of 59 UK fire service search and rescue specialists, two rescue dogs and a medical support team sent to Japan.
It included staff from Cheshire, Greater Manchester, Hampshire, Lancashire, Lincolnshire, West Sussex, the West Midlands, and Mid and West Wales Fire and Rescue Services.
Alan Downes, the team leader, said: "We were faced with a scene of total devastation in Ofunato.
"Yet despite the fact that most of the local community had lost everything, they were extremely supportive, which was a very humbling experience."