Kent haulier warns fuel costs will close businesses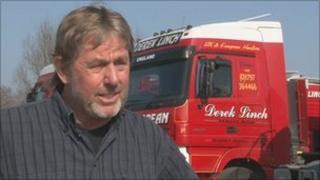 The boss of a Kent haulage company which went out of business last week has warned that soaring fuel prices will lead to the loss of more firms.
Derek Linch closed his Romney Marsh business after 33 years, citing the rising cost of fuel as a major factor.
He said he could no longer compete with foreign lorries which filled up on the continent with cheaper diesel.
Roads minister Mike Penning has pledged to help UK hauliers by introducing a lorry road user charging scheme.
Mr Linch has urged the Chancellor "to do a deal for UK operators" in the Budget.
George Osborne has hinted that he may freeze fuel duty, scrapping the rise planned for next month, when he presents his Budget on Wednesday.
Mr Linch said he put his business into voluntary liquidation because he could not "meet all his commitments".
At its height, his company had a fleet of 30 lorries, which he reduced to 20 three years ago because he could not keep up with the "foreign competition".
'Brimming with diesel'
He said coupled with the loss of a key contract in September 2009, the continual rise in fuel had made it impossible to survive.
"Fuel prices have always been an issue with UK truckers, but it's just got to a point now where we just can't carry on," he said.
"In the last 15 months the fuel price has gone up from 90p a litre, net of VAT, to 115p ... we buy 80,000 litres a month on average, so that's about £20,000 a month."
Mr Linch said the "constant stream of foreign operators" coming into the UK was also a huge problem.
He said the drivers were working for "a quarter of the wages that our guys are working for".
"The trucks do not pay a penny towards our UK economy, they're driving on our roads free of charge, they're coming in brimming with diesel... and something's got to be done," he said.
Roads minister Mike Penning is planning to introduce a lorry road user charging scheme.
The Department for Transport said the scheme would create "a more level playing field with foreign trucks for the first time by making them pay to use British roads".
The scheme is due to come into force in 2014.
Mr Linch said the loss of his haulage business had left him feeling "absolutely gutted".
"I've worked my backside off for the last 33 years - that's my life."