Kent bank scam costs elderly women £43,000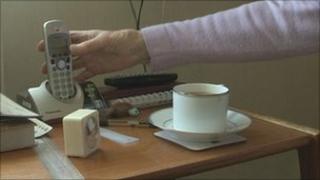 A 91-year-old woman has spoken out after she was conned into handing over her bank details to bogus police officers who withdrew over £7,000.
The woman, from Maidstone, is among nine elderly victims in Kent who have fallen for the scam since January.
Kent Police said the thieves had stolen nearly £43,000 from the women, with the latest theft taking place on 13 March.
The victim said she wanted to tell her story to make others aware of the lengths criminals would go to.
'Good act'
One of the thieves rang her claiming to be a fraud squad police officer investigating suspicious activity on her bank account and gave her a crime number.
She disclosed her Pin number, and a man claiming to be a sergeant called at the house, taking away her bank card and latest statement.
The money was withdrawn over a period of 10 days.
"He was ringing me three times a day and when you live alone it is ever so nice when the phone goes," said the victim, who wanted to remain anonymous.
"He kept repeating himself and telling me about his sergeant. Really, he put on a good act."
The woman said she felt embarrassed and stupid to have been taken in by the scam.
"I thought they were trying to help me, but really they were just trying to get my money," she said.
Det Con Donna Hopper said some of the victims had lost their entire life savings.
"Real police officers would never confiscate people's cards or take bank details," she said.
"If you are asked for these details, you should immediately be suspicious and demand to see their identification and then check this with local police."